West Hollywood
Bordered by Doheney Drive on the west, Sunset to the north, Sycamore to the east and Whilloughby to the south, West Hollywood is an upscale urban playground with plenty of shopping, restaurants and nightlife as well as family parks and hiking trails. Known for its diversity, the city has large gay, Jewish and European populations.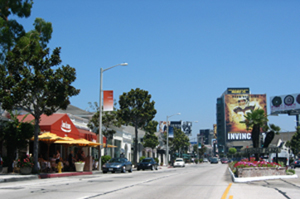 Points of Interest
Sunset Strip
This stretch of Sunset Blvd. is known for its collection of premier boutiques, restaurants, rock clubs and nightclubs that are on the cutting edge of the entertainment industry.


Pacific Design Center
The Pacific Design Center is a huge (1,200,000 sq. ft.) multi-use facility for the design community. Home to some of the West Coast's top decorators, a furniture market, showrooms and a branch of the Museum of Contemporary Art (MOCA). One of the buildings is often described as the "Blue Whale" because of its outsize nature and brilliant blue glass cladding.


Runyon Canyon Park
Located at the eastern end of the Santa Monica Mountains, Runyon Canyon park is a great, dog friendly place to hike. There are two entrances, on Fuller Avenue and on Vista, with a fire road looping through the hillside to connect the two.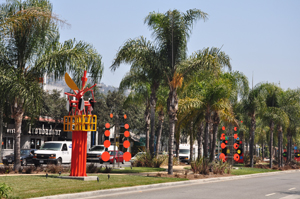 Neighborhoods
Norma Triangle
A residential neighborhood encompassed by Doheney Drive on the west, Sunset and Holloway on the north and Santa Monica Blvd. on the south. This small district is shaped like a triangle.


Boys Town
A popular gay district centered along the stretch of Santa Monica Blvd. between La Cienega Blvd. and North Robertson Boulevard. Along here you'll find countless gay-owned or gay-popular bars, restaurants, shops and businesses.
Restaurants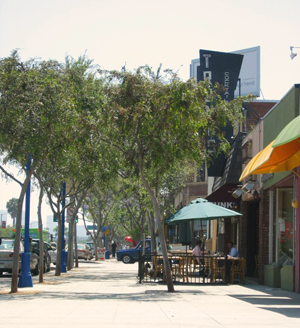 Public Schools
West Hollywood public schools are zoned to the
Los Angeles Unified School District
,
Board District 4
.
View test scores here, and here.
West Hollywood Elementary School
Rosewood Elementary
Laurel Elementary School
Melrose Elementary School
Gardner Street Elementary School
Fairfax Senior High School
Hollywood Senior High
Walt Whitman High School
Private Schools
Center for Early Education
Dvorsky School
Maimonides Academy
West Hollywood Children's Academy
Pacific Hills
Community Statistics
People

Population: 36,102
Median Age: 41.3
Married: 27.21%
Single: 72.79%
Average Household Size:1.53 people
Median Household Income: $47,327
Housing

Median Home Age: 43 Years
Median Home Cost: $891,400
Home Appreciation: -23.2%
Homes Owned: 20.32%
Property Tax Rate: $8.38
Climate

Rainfall (in.): 18.1
Precipitation Days: 26
Sunny Days: 283
Elevation: 541 ft.
Education

School Expenditure per Student: $6,000
Pupil/Teacher Ration: 15
High School Grads: 91.41%
2 Yr. College Grads: 6.51%
4 Yr. College Grads: 31.24%
Graduate Degrees: 15.64%
Voting

Democrat: 63.102%
Republican: 35.598%
Independent Other: .282%
Independent Liberal: .409%
Independent Conservatives: .609%